Creating Beautiful Custom Homes in Eugene, OR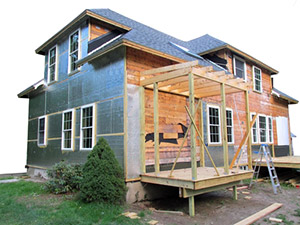 In order to give yourself the highest standard of living, with the most comfort, value and enjoyment, your home needs to reflect your unique needs and wants. Sure, it's possible to buy a home on the market and turn it into a place you love to live in, but wouldn't it make more sense to build something that's unique to you, from the ground up?
Greg's Construction Services has helped numerous homeowners realize the potential for custom homes in Eugene, OR and we've been integral in constructing these homes to meet and exceed the expectations of the people living in them. We understand that a home is more than just a foundation, walls and a roof—it's the place where you'll hang your hat, raise your family and lay your head to sleep at night. We believe there is no "one size fits all" home, which is why we emphasize complete customization when it comes to building your unique home.
Full design and build
As the premier custom home builder in Eugene, OR, Greg's Construction Services is pleased to offer you more than just the muscle and manpower—we're also your resource for logistics, planning and just about anything else you might need throughout the home building process. We aim to alleviate much of the burden that can come with building a custom home and will work with you to minimize stress from beginning to end.
Critical capabilities
When you choose other contractors and builders for custom homes in Eugene, OR, you might not be getting everything you expect to. Instead of having to coordinate between numerous different contractors or hire in specialty services for certain build stages, trust us to facilitate every critical stage. We have the capabilities and resources to provide you with:
Site prep, grading and excavation services, to ensure everything is ready for the build.
Foundation pouring and paving, to set the stage for your brand new custom home.
Framing and building, giving your home shape and structure.
Roofing, siding, windows and doors, to protect your custom home and give it finished appeal.
HVAC, plumbing and electrical services, to make your home livable and functional.
Interior finishing, so you can realize your vision and live in the home that's uniquely yours!
Our emphasis on quality throughout every stage of the build means you're getting a custom home in Eugene, OR that's not only built to spec, but built to last. Every home that bears our name on the building documents is a home that's guaranteed quality.
Contact us
If you're ready to start building your very own home, designed for your unique needs and wants, make Greg's Construction Services your custom home builder in Eugene, OR. Consult with us today at 541-729-6490 to get the process started!