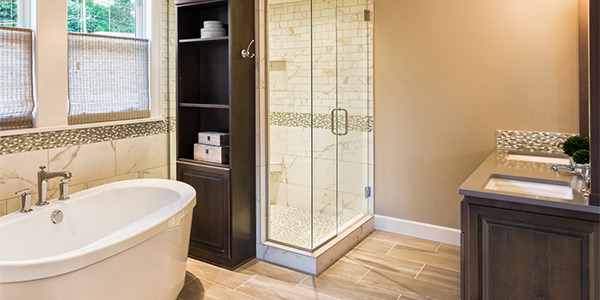 Luxurious Bathroom Remodeling in Eugene, OR
When you step into your bathroom you should be greeted with a level of luxury, sophistication and, above all else, an aura of comfort. Everything from the lighting and the fixtures to the materials used for your floor and countertops should speak to you and the message should be an appealing one.
If your bathroom isn't living up to your expectations or has fallen behind the rest of your home in terms of accommodation and functionality, it's time to seriously consider bathroom remodeling in Eugene, OR. Greg's Construction Services is here to help.
As a premier remodeling contractor specializing in luxurious bathroom upgrades, we can help you to achieve a contemporary look that retains a classic level of comfort and sophistication. Our goal is to help you transform your bathroom into a room of your home that continues to uphold the highest standards in comfort and accommodation. Some of our core focuses when it comes to bathroom renovations in Eugene, OR include:
Materials: From cosmopolitan countertop materials to classic flooring options and everything in between, we focus on adding value and quality to your home through an unparalleled selection of materials.
Cabinets: Function in their design, beautiful in their aesthetic, cabinets can make or break a bathroom remodel. We take special care to make certain that your cabinets illustrate your emphasis on a truly enjoyable bathroom environment.
Fixtures: Fixtures are the essential details that make a newly remodeled bathroom shine. Whether you're looking to upgrade in a subtle way or want to tie the décor of the room together with a specific fixture type, we'll help you achieve your vision.
Amenities: Replace that blemished tub with something beautiful; rip down that shower curtain in favor of some glass doors; do away with the old porcelain throne in favor of something that sparkles! Amenities are a core focus of any bathroom remodel!
If you're ready to take the first step in planning your ideal bathroom remodel in Eugene, OR, make sure you're consulting with Greg's Construction Services. Give us a call today at 541-729-6490 to learn more.